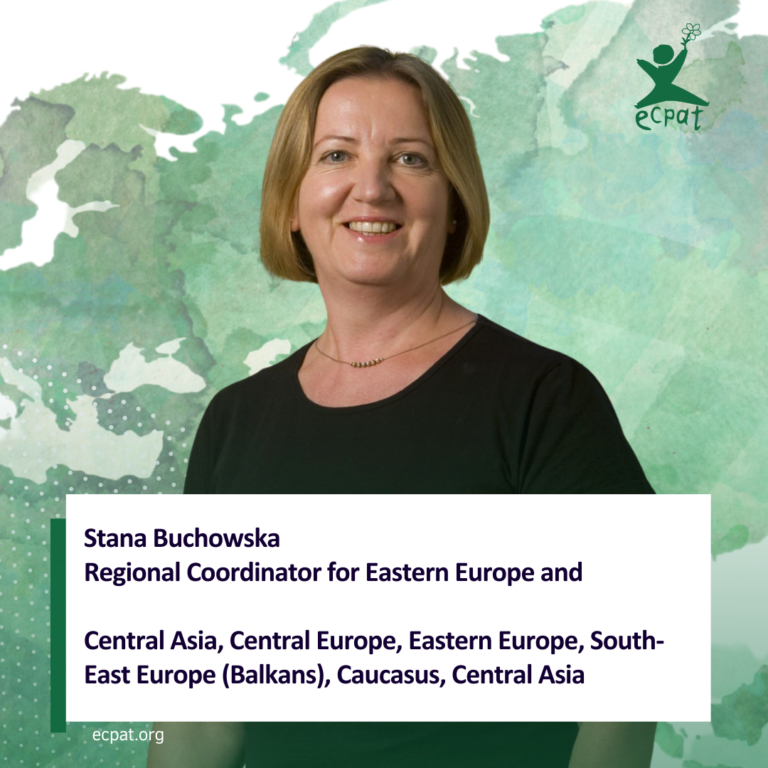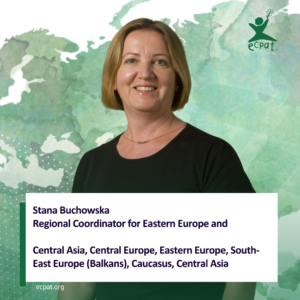 Stana Buchowska




Regional Coordinator for Eastern Europe and Central Asia,

Central Europe, Eastern Europe, South-East Europe (Balkans), Caucasus, Central Asia


Started at ECPAT: May 2018 (3 years and 3 months)
Q1. During your time, 
what has ECPAT been most successful at in your region?  
My work at ECPAT sees me cover such a vast and culturally diverse area (23 members). Since the beginning, my focus has been on improving network interaction among members. I'm a firm believer in sharing best practices and have seen first-hand the benefits and gains that can be made from simply getting together (nowadays virtually), sharing our experiences, and learning from one another—both professionally and personally. 
Q2. What are some of the new long-term objectives you would like to see completed in your region? 
For my region, the goal is to see an increase in capacity building of members. We are doing great work, but it would be amazing to connect with other regions, tap into their knowledge and experience, and get better at what we do. It's easy to get siloed but ECPAT's strength lies in its numbers and its diversity. A global membership network is a wonderful thing, when you really think about it. There are so many minds, experts, focused on ending the sexual exploitation of children. Despite the obvious zoom fatigue we experience these days, I would really enjoy the opportunity to get to know other members from other regions more. 
That being said, the development and improvement of existing child protection and safeguarding policies instruments, as well as their effective implementation is important. 
Q.3 What are some of the challenging you encounter in your region? How are members overcoming them? 
Sadly, there remains a lack of awareness about the Sexual Exploitation Children (SEC) at the national level, among decision makers, and rather surprisingly among other key stakeholders. This needs to change and that why I call for more capacity building. We need more members to be able to have the correct tools to push awareness of SEC at the forefront of discourse. 
We can observe that there is a sense of a lack of political will and a genuine underestimation of NGOs and civil society at large by governmental and state representatives. This hampers our ability to make the necessary changes that we want to see. However, I am confident in the members who are unrelenting in their drive to change this perception. 
I'm sure every regional representative will say that strengthening advocacy skills of our members and improving our advocacy work is key. In the fight to end the sexual exploitation of children, we have to make sure we are all pushing for major changes not just in discourse but in action across the legislature. 
Q4. What are some interesting initiatives from members?
Ha! All my members are doing a very good job. I'm truly proud of the work they are doing and will encourage you to reach out to me or our members directly to find out more about our initiatives.  
That being said, if you want to find out more, head to our ECPAT country Overviews (ECOs):