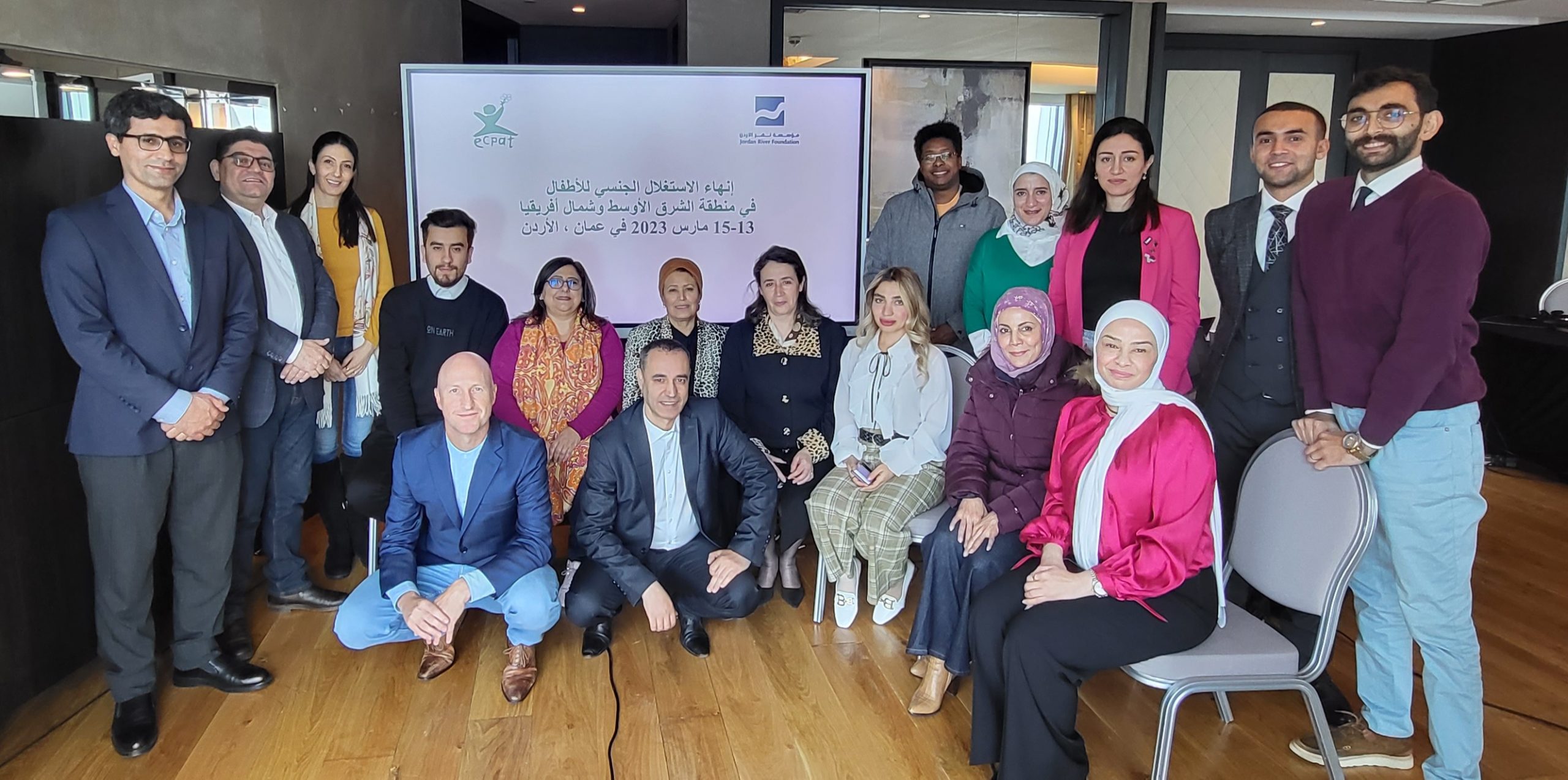 AMMAN, JORDAN—From 13 to 15 March 2023, organisations and professionals committed to ending child sexual abuse and exploitation in the Middle East and North Africa (MENA) region gathered in Amman, Jordan, to share best practices and information on how to address the systemic and root causes of these heinous crimes. 
Co-hosted by the Jordan River Foundation (JRF), the ECPAT MENA Regional Consultation was the first in-person meeting held after the pandemic to promote collective effort in the region and bring forward the results of the MENA Regional Overview on the sexual exploitation of children. The report was launched virtually in the spring of 2020. 
During the meeting, participants recognized that existing gender norms, political instabilities, and the ongoing humanitarian crises in the region are among the most pressing issues increasing children's vulnerability to abuse and exploitation. They agreed on the need to develop case studies to better understand how children are exposed to sexual exploitation in these settings and identify effective ways to engage on this issue. 
"Protecting children in the MENA region requires more than the efforts of CSOs" said Liliane Nasrallah, ECPAT International Regional Coordinator for the Middle East and North Africa. "If we are to achieve actual change in such a troubled region, we need to collaborate with other stakeholders, such as the private sector, informal economies, faith-based actors, traditional leaders, parents, caregivers, and children themselves." 
At the event participated ECPAT Members Jiyan Foundation, Dar el Amal, Sawa, and the Egyptian Foundation for Advancement of the Childhood Condition (EFACC), Nada network (Alegria), the Ministry of Social Development, and representatives of UNHCR and UNICEF. 
"We have many laws in the MENA region that ensure child protection, but they are not implemented. The NGOs in the region have an important role in ensuring the effective protection of children." 

Ohaila Shomar, SAWA, ECPAT Regional Representative of the MENA Region