Technology companies need formal regulation and accountability to keep children safe online.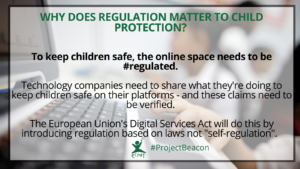 When the internet first burst onto the scene very few people working in child protection – or the world – really understood how it worked.  As such, child protection organisations, law enforcement agencies , governments and the public were forced to rely on the voluntary cooperation of technology companies to help keep children safe on their platforms. This was the beginning of the concept of "self-regulation", which emerged in a very different world than that of today.
Indeed, as more activities take place online and through digital devices – from socialising to banking to shopping and more – it has become clear that a more robust framework of laws and  regulation of digital service providers needs to be put into place to ensure safety in a highly complex digital environment. ECPAT International calls for a system of trustworthiness and transparency governing the online world. If companies claim they are protecting children, the claim must be verifiable. To guard against unverifiable claims, technology companies must confirm to a mandated authority that they are honouring their legal obligations, including towards children.
At the moment, companies may publish documents saying they are protecting children, but they do not have to be verified by an external party and more needs to be done. In the near future, the European Union will bring in the Digital Services Act (DSA), and other measures, which will introduce new regulations based on laws;  "self-regulation" will no longer be acceptable. Other countries around the world are already implementing or  considering similar regulations, and it is anticipated that others will follow. ECPAT International's Project Beacon team will be sharing more about the DSA as it is debated, amended and finally approved in the EU. 
Join us in the fight to ensure social media platforms are regulated and children are protected in the online space! Follow us on Twitter here to learn more and share your thoughts using the hashtag #ProjectBeacon.