Today is the first Safer Internet Day of this decade and a day to highlight this year's important theme to work "Together for a better Internet". For many years, cases of online child sexual abuse have been increasing, and with it, ECPAT network's efforts to ensure children's safety online. Understanding online sexual crimes against children is an important first step in order to be able to support, and as hotlines around the world warn that more and more material is produced by children themselves, that is what we're going to focus on today.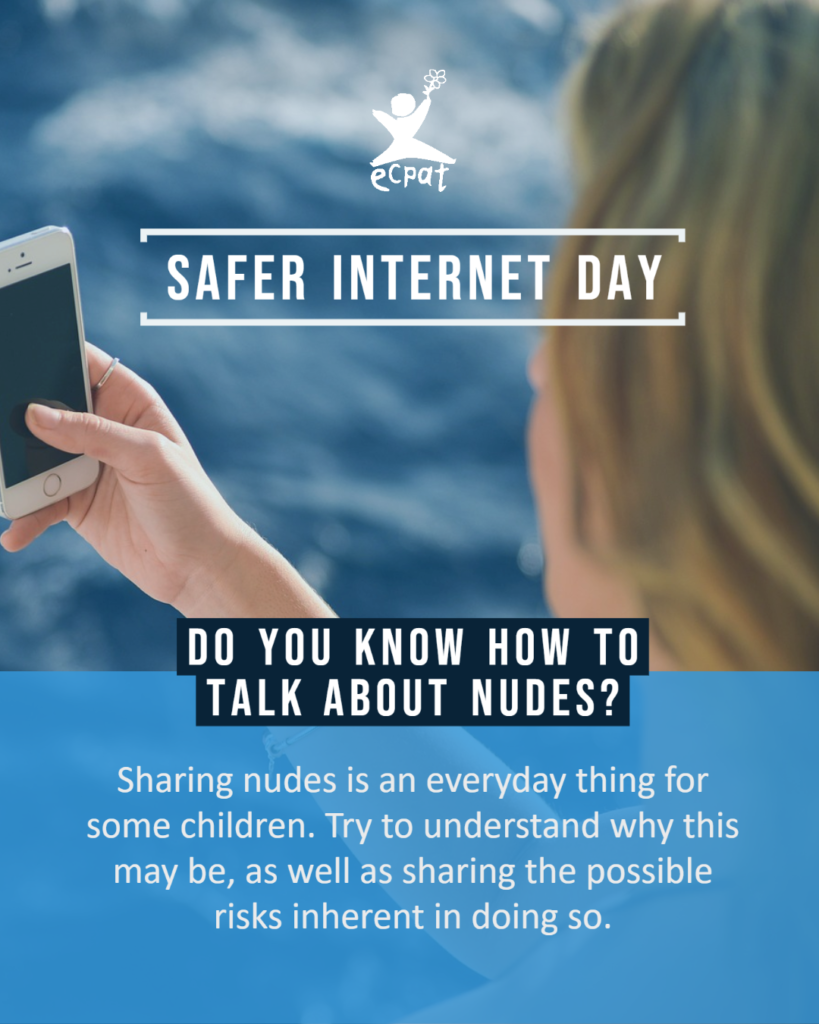 The Internet is a great source of joy, possibilities, learning and friendship. It is a part of our everyday life and what is happening online is not an isolated event, but something that affects us also "offline". In 2019, ECPAT Sweden's hotline warned that the number of reports of sexually explicit material produced by children themselves is increasing. The reasons behind taking such pictures are complex and it doesn't have to have negative consequences.
On the contrary, many children argue that self-produced images provide advantages in their relationships and/or increased self-esteem. But even though the initial intention might not be to share the images widely online, there is a high risk that it finds its way to sites where child sex offenders seek material. As parents or other adults having a relationship with a child, there are things you can do to prevent children from being sexually exploited online.
Talk to children about nudes and their lives online
Talk to the child on their own terms. Do not interrupt.
You have to understand that sharing nude pictures is an everyday thing for some children, try to understand why this may be, as well as sharing the possible risks inherent in this behaviour.
Don't threaten to take their phone or prohibit them from being online.
Instead; talk about online risks and how they can protect themselves.
There's no typical offender – there are no safe zones
Perpetrators usually contact children through social media or messaging apps, but also through e-mail, dating sites or games with a chat function. A child can be threatened by someone they know, or by someone they met online. Make sure to explain this.
Take away the shame.
If a child's images are shared online, don't judge. Remain supportive and calm. It is never the child's fault.
Report.
If you suspect that a crime has been committed, always report it to the police. Most websites and social media platforms also have features where you can report inappropriate and/or illegal content. Find out where to report here.
Today we're celebrating Safer Internet Day 2020, but ECPAT is working to make the internet a better and safer place for every child, every day. In doing so we rely on the generous donations from you. Support our future work here!
12 things you need to know about sexual images produced by children themselves
Read the full report from ECPAT Sweden / ECPAT Sverige in Swedish