ECPAT Executive Director Robbert van den Berg has urged a group of global religious leaders to stay on top of evolving trends in social media and other online platforms – and to work in their communities to protect children from online sexual exploitation.
Addressing hundreds of senior religious figures from Islam, Christianity, Judaism, Buddhism and Hinduism at the Interfaith Alliance for Safer Communities, last week in Abu Dhabi, he told religious leaders that they must ensure they are au fait with the rapidly changing online world that children and offenders inhabit today.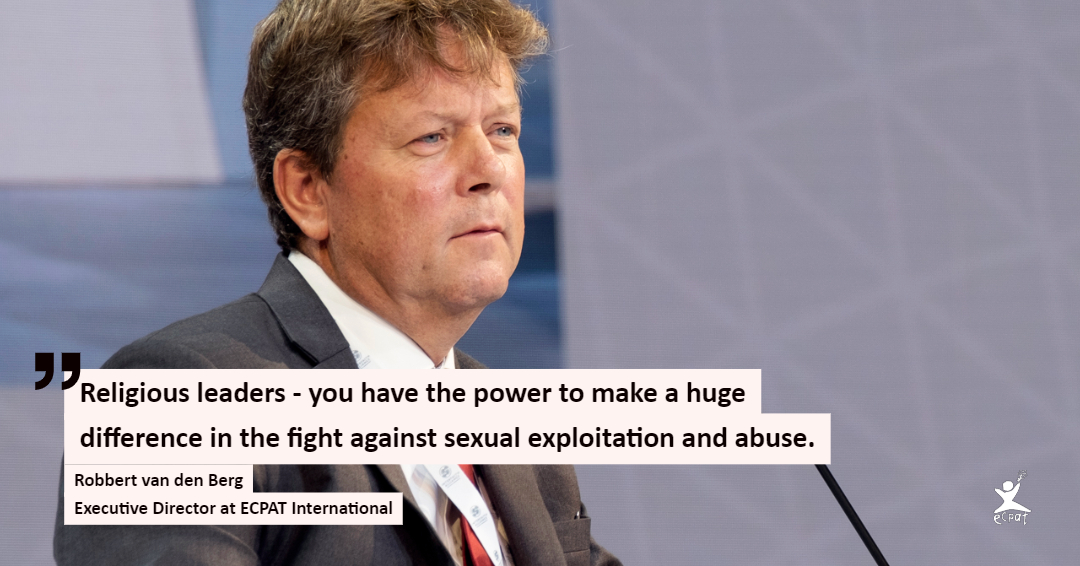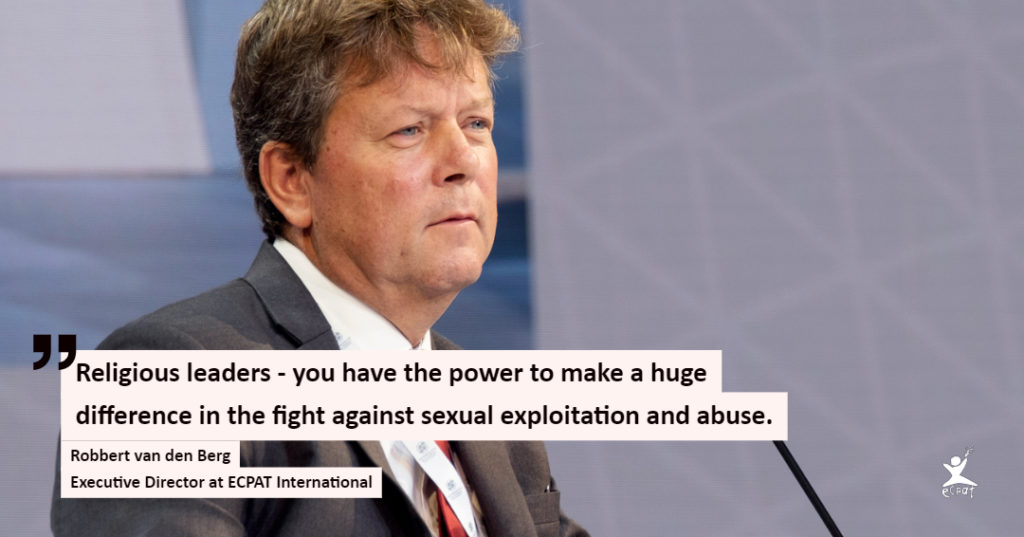 "About 85% of the world claims to believe in a religion. As religious leaders, that puts you in a unique position to be part of the solution. You have the power to make a huge difference in the fight against sexual exploitation and abuse. You have a responsibility to report if you hear it is happening in your communities. You have the unique ability to take the moral high ground and stamp it out.

One of the most difficult things about tackling the crime of online sexual exploitation is that new ideas come out every day – and offenders are quick to misuse enhanced features. New platforms are making it easier to record, store and encrypt child sexual abuse material; find both victims and like minded offenders; share the material; and hide any income derived from it."
Religious leaders must understand children's online behaviours
He also warned faith leaders that because new platforms are popping up all the time and most are not designed or operated according to child protection standards, it is their job as community leaders to understand children's online behaviours.
"This is not a child behaviour problem – it is an adult behaviour problem. The answer is not for example, to restrict Internet access for children – but to work so that offenders are tracked, victims are found and the Internet becomes a safer place for children."
End taboos about discussing sex
He also urged religious leaders to take action in their own communities to stamp out the sexual exploitation of children.
"Sexual exploitation creates trauma that may last a lifetime. For reasons of fear, stigma and shame, child victims are usually not in a position, nor do they have the capacity, to come forward. And on some occasions, when they do come forward and share their experience of abuse with a trusted family member, they are often convinced to keep quiet."
Along with child sexual abuse material, live streaming, the grooming of children for sexual purposes, and sextortion have all become more common in recent years. Religious leaders can help prevent these crimes by:
Raising awareness among parents and children to understand the threats children face online, how to stay safe online and how to report anything worrying;
Urging parents to have conversations with their children in an open and non-judgmental manner – and to create an environment at home where children feel comfortable speaking about and reporting incidents;
Encouraging adults to report to relevant agencies if they see something suspicious online or something happens to their own children or acquaintances;
Spreading messages to reduce stigma and show compassion towards victims;
Dissuading people from engaging in negative cultural practices, such as discouraging the forced marriage of victims to offenders – or child marriage; and
Empowering children to become aware of their legal rights, such as the right of victims to access justice, medical, psychological and social support services tailored to their specific needs.
About the conference
The Interfaith Alliance For Safer Communities Forum is an expansion of the Child Dignity in the Digital World Congress which was held in October 2017 in the Vatican, and resulted in the "Rome Declaration" endorsed by Pope Francis. The Abu Dhabi forum hosted 450 global religious leaders, NGOs and heads of industry to discuss challenges and develop solutions for protecting youth from cybercrime. It was held under the patronage of His Highness Sheikh Mohammed bin Zayed Al Nahyan, Crown Prince of Abu Dhabi.
>> Read more: A guide to action for religious communities. <<