Why is it important for EU law enforcement agencies to have access to specialised technologies?
The EU proposes a new new European Centre to combat child sexual abuse on and offline.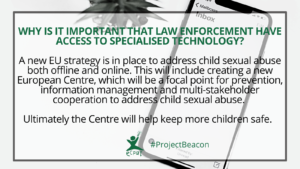 In 2020, the European Union has adopted a new a  "Strategy for a more effective fight against child sexual abuse". This strategy is in place to address sexual abuse in both the offline and the online worlds. 
A core part of this strategy involves establishing a new European Centre (the Centre). Working with the existing ecosystem of child protection bodies, the Centre has ambitions to become a global Centre of Excellence and focal point in combatting child sexual abuse on and offline. The goal is for the Centre to be recognized in terms of gathering in and disseminating evaluated examples of best practices both in terms of preventive measures and support for victims. It should become a driving force in finding new and better ways to support victims, working cooperatively across the current ecosystem of online child protection agencies while being able to act independently, if necessary. 
In addition, the Centre is likely to become an EU focal point in relation to  child sex abuse material, and to play a central role in coordination the exchange of information between law  enforcement agencies and relevant online businesses to prevent and respond to online child sexual exploitation and abuse. 
This matters because currently European law enforcement are highly dependent on the United States for a large proportion of reports of child sexual abuse occuring in and through digital environments. A change in US law or practice could have a massive adverse impact on child protection within Europe. ECPAT International and its European members strongly support the idea of building greater capacity in Europe and this is one of the many priorities ECPAT International's Project Beacon (learn more about Project Beacon here) is currently advocating for across the EU. 
Why does it matter? Follow us on Twitter here to learn more and share your thoughts using the hashtag #ProjectBeacon.