Rome – October 2017 – ECPAT International has warned that countries must act immediately to counter the rise of the "dark new threat" of the online sexual exploitation of children.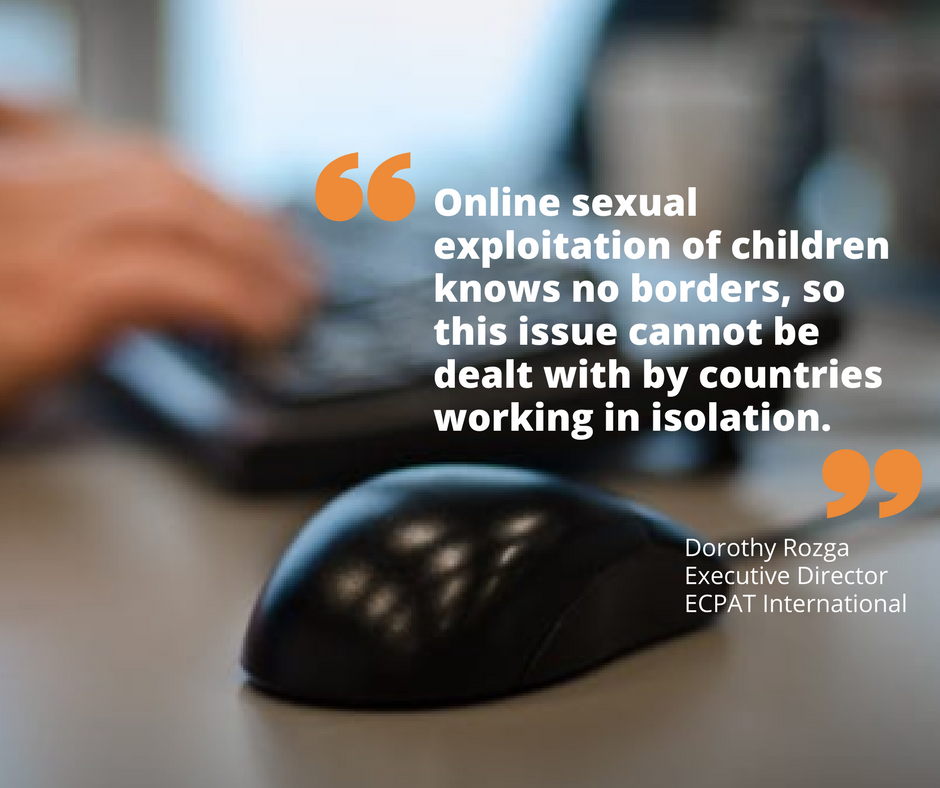 "This is a huge problem, with children being exploited on an industrial scale," said Dorothy Rozga, Executive Director of ECPAT International at the Ponitifcal Gregorian University in Rome. "The Internet and digital technology has enabled those who would harm children by making it easier and more efficient for abusers to produce, access and share child sexual abuse material, find likeminded offenders, and reduce their risk of detection."
Rozga was addressing high-level members of the Vatican and experts in the crime of child sexual exploitation and abuse.
Recent years have seen a significant increase in the crime, fuelled by cheap travel and evolving technologies, especially to poverty stricken countries. The Internet allows sexual exploitation to transcend borders. Child predators can be located anywhere, while abusing their victims who can also be located anywhere – either live or using pre-recorded material. ECPAT estimates that of the 1.8 billion images uploaded globally every day – 270,000 are of child abuse and many individual offenders have been found to possess millions of images.
According to law enforcement agencies, although the problem is ubiquitous, it is under reported and hard to quantify. But ECPAT has found that the vast majority of child victims in online abuse material are prepubescent; in recent years there has been a 125 percent increase in the number of images depicting torture-rape and violent sexual abuse; and almost all online sexual abuse is produced by a those in the child's circle of trust. Only five percent of images are produced by someone unknown to the child.
"Today, child sex offenders no longer have to risk carrying incriminating evidence through customs or border checkpoints," said Rozga. "Instead, they can abuse children, document the abuse through a mobile phone camera or other easily portable video device, and upload the stills and videos to cloud services to be accessed when they return home."
While Rozga praised the Vatican's recently established Centre for Child Protection – for beginning to recognize the scale of child abuse – she also called on countries to step up efforts to combat the phenomenon.
"Online sexual exploitation of children knows no borders, so this issue cannot be dealt with by countries working in isolation," she said. "It demands a coordinated global response from governments. It needs to be – and indeed will be included in global development goals and indicators."
-ends-