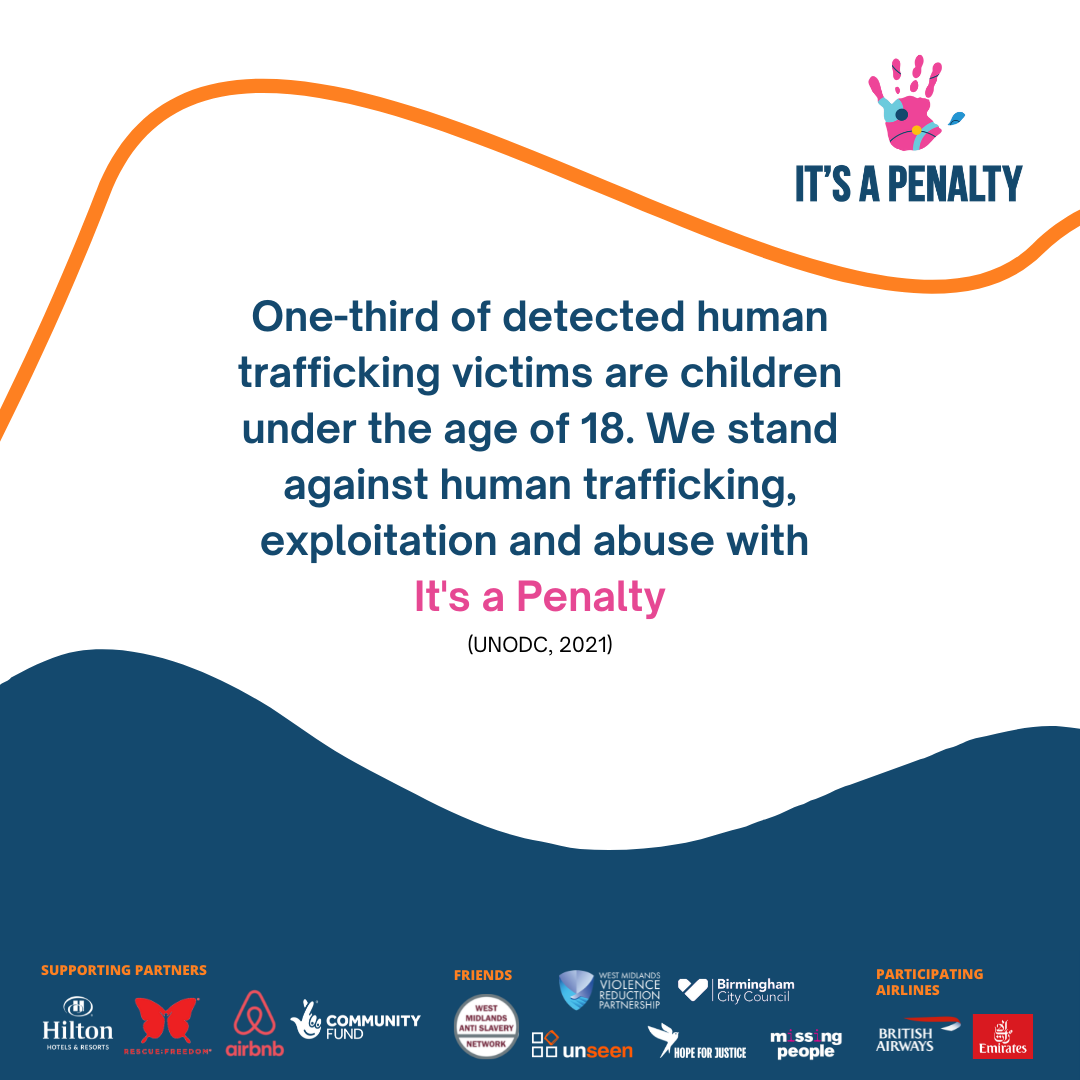 How can the general public know the signs of abuse, exploitation & human trafficking?

ECPAT International supports the 2022 It's a Penalty campaign, ahead of the Birmingham 2022 Commonwealth Games, to raise awareness of trafficking, slavery and sexual exploitation.
Key Facts: 
There are an estimated 100,000 victims of modern slavery across the UK (Centre for Social Justice, 2020). The economic and social cost of modern slavery is believed to be between £3.3 billion and £4.3 billion (Centre for Social Justice, 2020).

 

West Midlands Police report that there are up to 4,200 victims of modern slavery in the region and 70% of known cases involve children (West Midlands Police, 2020).

 

It is estimated that one in every 150 people in the Commonwealth is living in conditions of modern slavery (Commonwealth Human Rights Initiative, 2020).

 

One third of detected human trafficking victims are children under the age of 18 (UNODC, 2021).

 

Throughout the Commonwealth, children are not adequately protected against sexual exploitation and abuse, including human trafficking (It's a Penalty CommonProtect report, 2022). The COVID-19 pandemic has amplified socio-economic inequalities, increasing the pool of potential people who may be exploited in modern slavery.
This campaign will kick off with an event on 29th June with guest speakers Geoff Thompson, Deputy Chair of the Birmingham 2022 Commonwealth Games Organising Committee Board, Nicola Underhill, General Manager of the Hilton Metropole, and a case study from partners, Unseen. The event will have two panels: one involving the tourism and hospitality industry, and another on local and grassroots efforts on combatting human trafficking.
Watch It's a Penalty's Birmingham 2022 campaign film featuring Ambassadors Usain Bolt, Cathy Freeman, Ellie Simmonds, Asha Philip, and Kadeen and Sasha Corbin:
For more information, contact elizabeth.speller@itsapenalty.org
ABOUT IT'S A PENALTY
Since its inception in 2014 at the Brazil FIFA World Cup, the It's a Penalty Campaign has run successfully during 12 major sporting events, including the Gold Coast 2018 Commonwealth Games, IOC Olympics and Paralympics, NFL Super Bowls, FIFA World Cup, and UEFA European Championships. Campaigns are fronted by high-profile athletes and actors, and position each major sporting event as a platform for worldwide action and change in recognition that abuse, exploitation and human trafficking are increasing global issues with local impact.
Every campaign is bespoke and contextualised to each major sporting event and the need in the host country, determined by working in partnership with sporting governing bodies and local NGOs. Each campaign reaches an average potential of 180 million people worldwide, helping them to gain a better understanding of the issues of human trafficking, abuse and exploitation and the action they can take.
It's a Penalty, together with partners, has helped to prevent thousands of people from being victimised and facilitated the recovery of 16,977 survivors of sexual exploitation.