Virtual Conference with INHOPE and ECPAT
30 June 2021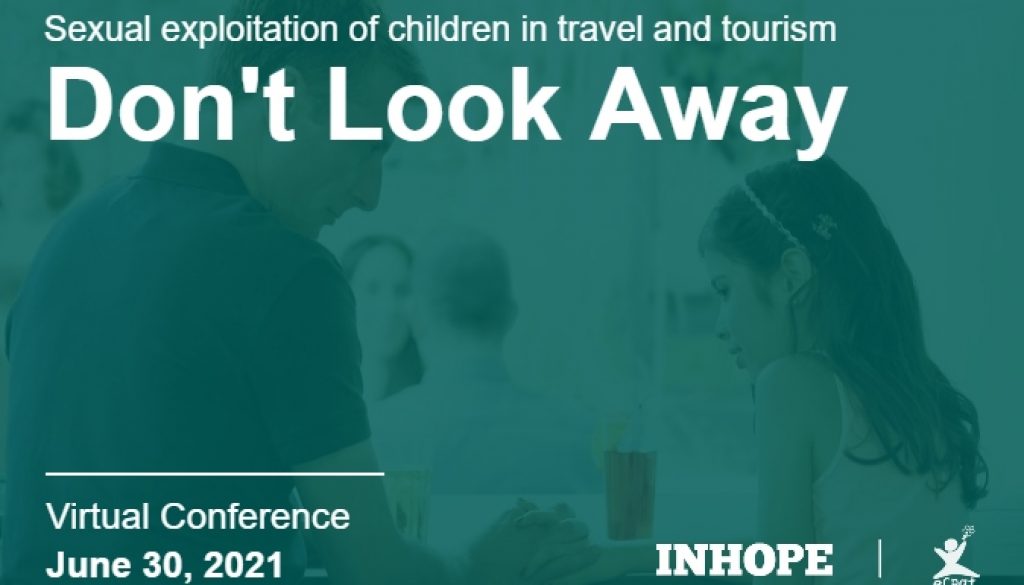 INHOPE and ECPAT host 'Don't Look Away, Report it – Virtual Conference' on Wednesday, June 30, 2021.
Download the full agenda and register now.
This virtual conference will create a dialogue among the Travel & Tourism industry, INHOPE and ECPAT International on reporting online and offline sexual exploitation of children.
Travel and tourism have been restricted during Covid-19, but child sexual abuse did not stop. The pandemic and the measures taken in response to it have increased the risk of children being exposed to violence. Children are exploited in prostitution, online, in the context of travel and tourism and are trafficked for sexual purposes – none of these contexts and manifestations are isolated.
As travel restrictions lift, there is reason to fear that offenders who have been targeting and grooming children over the last year in the digital environment may resume travel with the intention of hands-on exploitation. Therefore, in order to protect vulnerable children and make reporting easier, INHOPE and ECPAT International invite the representatives of the Travel and Tourism industry, INHOPE hotlines, and members of The Code to share your experiences and challenges. Let's create closer cooperation between INHOPE and ECPAT members.
This virtual conference is ONLY suitable for hotlines, ECPAT members, travel and tourism professionals and technology companies.